List of Top 10 Most Popular Search Engines In the World (Updated 2019)
List of Top 10 Most Popular Search Engines In the World (Updated 2019)
Google
Bing
Yahoo
Ask.com
AOL.com
Baidu
Wolframalpha
DuckDuckGo
Internet Archive
Yandex.ru
Google
No need for further introductions. The search engine giant holds the first place in search with a stunning difference of 65% from second in place Bing.
According to the latest netmarketshare report (November 2018) 73% of searches were powered by Google and only 7.91% by Bing.
Google is also dominating the mobile/tablet search engine market share with 81%!
2.Bing
Bing is Microsoft's attempt to challenge Google in search, but despite their efforts they still did not manage to convince users that their search engine can be an alternative to Google.
Their search engine market share is constantly below 10%, even though Bing is the default search engine on Windows PCs.
3. Yahoo
Yahoo is one the most popular email providers and holds the fourth place in search with 3.90% market share.
From October 2011 to October 2015, Yahoo search was powered exclusively by Bing. Since October 2015 Yahoo agreed with Google to provide search-related services and since then the results of Yahoo are powered both by Google and Bing. Yahoo is also the default search engine for Firefox browsers in the United States (since 2014).
4. Ask.com
Formerly known as Ask Jeeves, Ask.com receives approximately 0.42% of the search share. ASK is based on a question/answer format where most questions are answered by other users or are in the form of polls.
It also has the general search functionality but the results returned lack quality compared to Google or even Bing and Yahoo.
5.AOL.com
According to netmarketshare the old time famous AOL is still in the top 10 search engines with a market share that is close to 0.06%. The AOL network includes many popular web sites like engadget.com, techchrunch.com and the huffingtonpost.com. On June 23, 2015, AOL was acquired by Verizon Communications.
6.Baidu
Baidu was founded in 2000 and it is the most popular search engine in China. Its market share is increasing steadily and according to Wikipedia, Baidu is serving billion of search queries per month. It is currently ranked at position 4, in the Alexa Rankings.
7.Wolframalpha
Wolframalpha is different that all the other search engines. They market it as a Computational Knowledge Engine which can give you facts and data for a number of topics. It can do all sorts of calculations, for example if you enter  "mortgage 2000" as input it will calculate your loan amount, interest paid etc. based on a number of assumptions.
8.DuckDuckGo
Has a number of advantages over the other search engines. It has a clean interface, it does not track users, it is not fully loaded with ads and has a number of very nice features (only one page of results, you can search directly other web sites etc).
I am sure that some of the features of duckduckgo will be used by other search engines and with some proper funding duckduckgo can get a decent search engine market share. Currently is at 0.24%.
Update: According to duckduckgo traffic stats (December 2018), duckduckgo is serving more than 30 million searches per day.
9.Internet Archive
archive.org is the internet archive search engine. You can use it to find out how a web site looked since 1996. It is very useful tool if you want to trace the history of a domain and examine how it has changed over the years.
10.Yandex.ru
According to Alexa, Yandex.ru is among the 30 most popular websites on the Internet with a ranking position of 4 in Russian.
Yandex present themselves as a technology company that builds intelligent products and services powered by machine learning. According to Wikipedia, Yandex operates the largest search engine in Russia with about 65% market share in that country.
As a final word, if you search "What is the best search engine?" in any of the search engines listed above, you will get an answer that Google is the best and most popular search engine and Bing is in the second place (on a Global level).
These are the 10 best and most popular search engines on the Internet today.
Top 100 Most Visited Websites by Search Traffic (as of 2019)
Top 100 most visited websites in the 
US

 (as of 2019)

Unsurprisingly, this list is dominated by big websites that many of us know and love.
Top 100 most visited websites in the 
US

 (as of 2019)

Unsurprisingly, this list is dominated by big websites that many of us know and love.

YouTube is the most visited website on our list, with more than 1.7 billion estimated monthly visits from organic search. Considering that the USpopulation is ~329 million, this means that each person in the US clicks on a YouTube result 5.19 times per month, on average.

It's a similar story for Wikipedia. On average, every person in the US clicks a Wikipedia result 3.74 times per month.

SIDENOTE.

Just to be clear, those numbers are averages. We're not saying that every person in the US clicks on the same number of YouTube and Wikipedia search results every month. Some people click on many search results, whereas others will click on few or none.

Facebook is next on the list, with over 616.4 million estimated organic monthly visits.

Interestingly, roughly 22% of those 616+ million visits come from a single search query, "Facebook," for which there are 233 million monthly searches in the US.

The keyword "Facebook" also has a high Return Rate (RR), meaning that most who perform this search tend to do so multiple times per month.

Why does this happen? Most likely because searching for "Facebook" and clicking on the first result is easier and quicker than typing the entire URL(www.facebook.com) into the address bar. Also, you only have to type "f" into Google for it to suggest "Facebook" as a search term…

… which makes navigation via Google even quicker.
Next up, we have twitter.com and amazon.com with ~573.4 million and 534 million monthly organic visits respectively.
Hardly surprising; I think pretty much anyone could have guessed that YouTube, Facebook, Wikipedia, Twitter, and Amazon would be the most visited sites in the US.
So here are a couple of interesting observations from the rest of the top 100:
Google
Google.com is in 14th place with 94.7 million monthly organic visits from the US. Believe it or not, 7.2% of this traffic comes from people Googling "Google."
But perhaps more interestingly, 29% of Google's organic traffic goes to various Google Flights pages.
This is no doubt thanks to the Google Flights search box that appears at the top of the results for hundreds of thousands of flight-related searches.
For example, Google gets 1.9 million monthly visits from the keyword, "United Airlines…"
… which shows a search box like this in the results: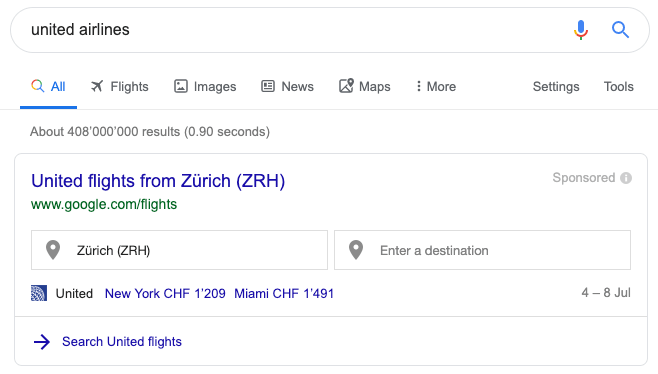 It's a similar story for Google's destination travel guides like this one for Walt Disney World Resort in Florida.
In fact, Google shows a "Top things to do in [place]" box in the regular web search results for over 400,000 destination-related searches. From that, they get a staggering 30+ million monthly organic visits in the US to their destination pages.
That accounts for ~32% of all organic traffic to Google.com!
So ~68% of all organic traffic to Google.com comes from a combination of people searching for "Google," Google's flight search boxes, and destination guide links in the search results.
Craigslist
Craigslist is one of the ugliest sites on the internet—I don't think anyone would disagree.
Yet it still gets more organic traffic than Walmart, Apple, Netflix, and many other big names.
How? Almost all of this traffic comes from branded searches. In other words, millions of people are searching for things like "Craigslist" and "Craigslist Chicago" every month.

Interestingly, Craigslist's popularity is pretty much confined to the US, where it gets 94.4% of its traffic.
Which got me wondering: how many of the top 100 websites in the US are only popular in the US?
So, here are all the sites from the top 100 that get 95%+ of their search traffic from the US and, therefore, aren't so popular in the rest of the world:
chase.com
xfinity.com
macys.com
bankofamerica.com
ufl.edu
zillow.com
irs.gov
apartments.com
npr.org
wellsfargo.com
ca.gov
realtor.com
lowes.com
mapquest.com
cbssports.com
nfl.com
wayfair.com
walmart.com
groupon.com
expedia.com
Top 100 most visited websites in the world (as of 2019)
The first thing we notice about the Worldwide data is that the top 5 most popular sites are the same as in the US: YouTube, Facebook, Wikipedia, Twitter, and Amazon.
YouTube is the most visited website by far, with 8.64 billion search visits per month.
That means there are more clicks on YouTube search results every month than there are people in the world—a truly mind-blowing statistic.
Most of the other sites on the list are recognizable brands to those of us English speakers, but a few aren't.
For example, the 12th most visited website in the world—by organic traffic, at least—is vk.com. It looks like this is a popular Russian social network popular amongst Russians, Ukrainians, Kazhaks, Belarusians, and Turks.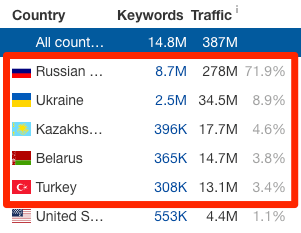 I signed up to see which it was like, and it looked uncannily similar to Facebook at first glance.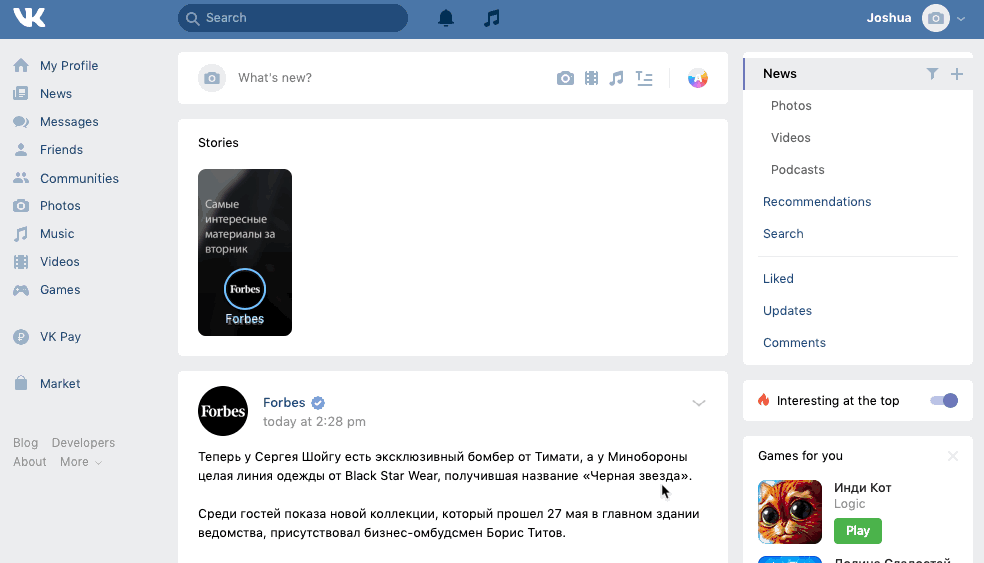 Another example is the 29th most visited website in the world: uol.com.br. According to Wikipedia, "UOL is the world's largest Portuguese speaking portal, which is organized in 42 thematic stations with more than 1,000 news sources and 7 million pages."
That probably explains why almost all (98.2%) of its organic traffic comes from Brazil.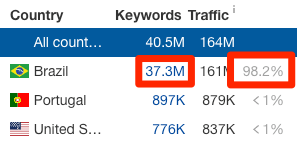 This site is actually more popular in Brazil than Craigslist is in the US!
Speaking of Craigslist, this site also makes the top 100 Worldwide websites, despite almost none of its traffic coming from outside the US. This just goes to show how popular Craigslist is in the US—it gets more organic search traffic from one country than most websites do from all other countries combined.
See how many organic visits any website gets
Are you curious as to how much organic traffic a particular site receives each month?
Head over to Ahrefs' Site Explorer and paste in the domain. You'll see the estimated monthly organic traffic to that website, the number of keywords it ranks for in organic search, and some other key SEO metrics.

To learn more, hit the "Organic search" tab.
Here, you will see an interactive graph showing that site's organic traffic over time: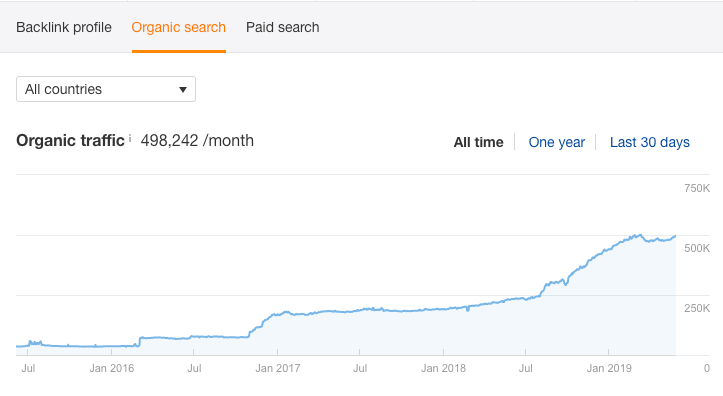 The graph above shows organic traffic to ahrefs.com, which has grown more than tenfold over the past few years thanks to our ongoing SEO efforts.
Below this, there's a graph showing the number of keywords the website ranks for in organic search, broken down by ranking position.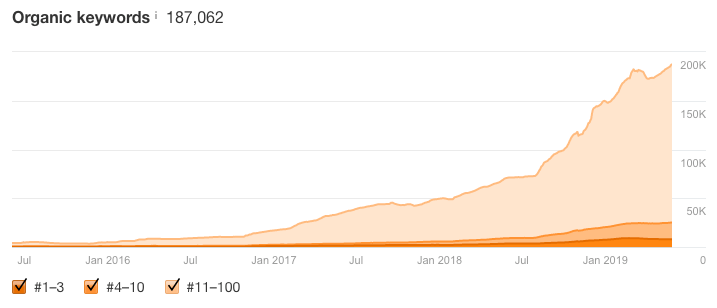 To the right of these graphs, we show keyword rankings and organic traffic metrics broken down by country.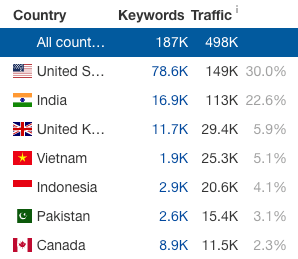 You can see that ahrefs.com gets the majority of its search traffic from the US, India, and the UK.
If you want to see all the keywords that a website ranks for, hit the "Organic keywords" report on the left-hand menu.
You can also check the "Top pages" report to see which pages on the domain get the most traffic.